ARANTXA ALVARADO
El Festival Internacional de Benicássim (FIB, FiberFIB, etc) dio a conocer a los nombres más relevantes de lo que será la veintitresava edición del mismo. The Killers, Liam Gallagher y Travis Scott son los encabezadores del cartel. Además aparecen   Two   Door   Cinema   Club,   Bastille,   The   Vaccines,   Catfish   and   the Bottlemen, Wolf Alice, Everything Everything, Tune-Yards, Nothing But Thieves, Rusos Blancos, Shame, Melenas y muchos más artistas que aún están por confirmar.
El FIB sigue recibiendo críticas respecto a la variedad de artistas con los que cuenta pues en sus inicios era uno de los festivales "indie" más importantes de Europa ya que en su primera edición contó con The Charlatans UK, Supergrass y Los Planetas. A pesar de eso el festival sigue creciendo a nivel internacional.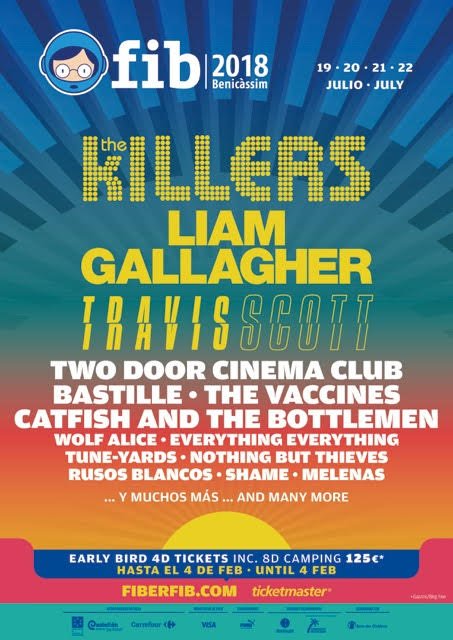 El evento se llevará a cabo el 19, 20 21 y 22 de julio del año en curso y los boletos se pueden adquirir en la página oficial desde 125 € el abono para los cuatro días incluyendo el camping. El costo del pase VIP Early bird de los 4 días incluye 8 días de camping en la costa de Benicássim si se compran antes del 4 de febrero.